Alfred Atanda, M.D. featured in National Institutes of Health's "Findings"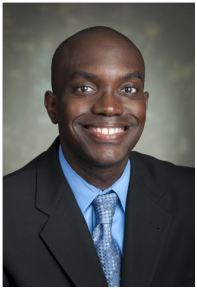 The study of pilot project leader Alfred Atanda Jr, M.D. was featured in the Fall issue of the NIH publication's website, "Findings." Dr. Atanda, a Pediatric Orthopedic Surgeon and Surgical Director of the Sports Medicine Program at Nemours/Alfred I. duPont Hospital for Children, is studying elbow ulnar collateral ligament (UCL) injuries in high school baseball pitchers using stress ultrasound. He has already enrolled 65 participants to date. "We want to first characterize the UCL anatomy in young male pitchers, correlate the types of pitches thrown and total amount pitched prior to the ultrasound with observed UCL structural and functional changes, and determine the age at which the UCL structural and functional anatomy in a young male pitcher is most similar to that of an adult male pitcher," Dr. Atanda explains.
With the information collected, Dr. Atanda aims to understand and determine potential negative effects of overuse to ultimately change the high school baseball culture and develop recommendations to prevent injuries. Dr. Atanda has recognized that reconstructive ligamentous surgery ("Tommy John surgery") is being performed on pitching arms of an increasingly younger population of athletes as play time and demand increase. If a simple non-invasive ultrasound technique can monitor adverse changes in UCL structure, it may be possible to avoid UCL surgery for young patients. Dr. Atanda's challenge is in convincing ambitious students and their parents that prevention, rest, and proper mechanics and strength training are better strategies than overuse and surgery.