2014 Core Facilities Open House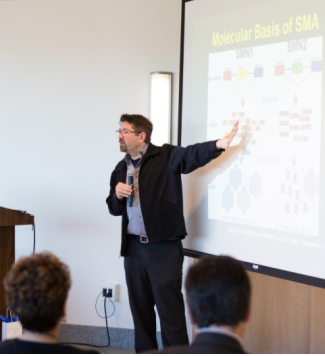 Over 100 participants were in attendance for this year's 2014 Core Facilities Open House, held at the University of Delaware's new STAR campus on Friday, November 14. The event provided a synergy of networking opportunities for all laboratory research scientists, vendors, and core facilities. COBRE recruit, Dr. Matthew E.R. Butchbach, Research Scientist at Nemours/Alfred I. duPont Hospital for Children was a featured speaker. Dr. Butchbach's presentation was noted as one of the many highlights of the event. His presentation, "Detection of SMN2 Copy Number Variation using Array-based Digital PCR: Establishment of a New Technology into Core Laboratories," hit home as he highlighted how essential the cores have been to him and this project.
The Centralized Research Instrumentation Core promotes clinical and translational research by providing IDeA Networks of Biomedical Research Excellence (INBRE)-affiliated researchers with state-of-the-art instrumentation and highly qualified professional personnel. Delaware INBRE is Delaware's biomedical research catalyst, which opens up resources and funding opportunities to researchers throughout the state. Fifteen affiliated core laboratories contributed in the day's events, including Christiana Care Health System, Delaware State University, Delaware Technical Community College, Nemours/Alfred I. duPont Hospital for Children, and the University of Delaware. The open house is an event held at different INBRE partner institutions annually. Original article by Heather Hardy, Assistant Director of the Nemours Histochemistry and Tissue Processing Core.